The Benefits of Using EcoTubes and Geo Bags for Dredging
You don't want to go swimming in sludge, do you? Marinas, lakes, rivers, and lagoons can all develop sludge at a rapid pace especially after storms. This built-up sludge can significantly damage the environment and contaminate otherwise clean waterways. In order to drain sludge water, laborers can construct sludge lagoons, sand drying beds, and wedge wire systems. However, none of these methods are as cost-effective and environmentally friendly as using EcoTubes and geo bags for dredging.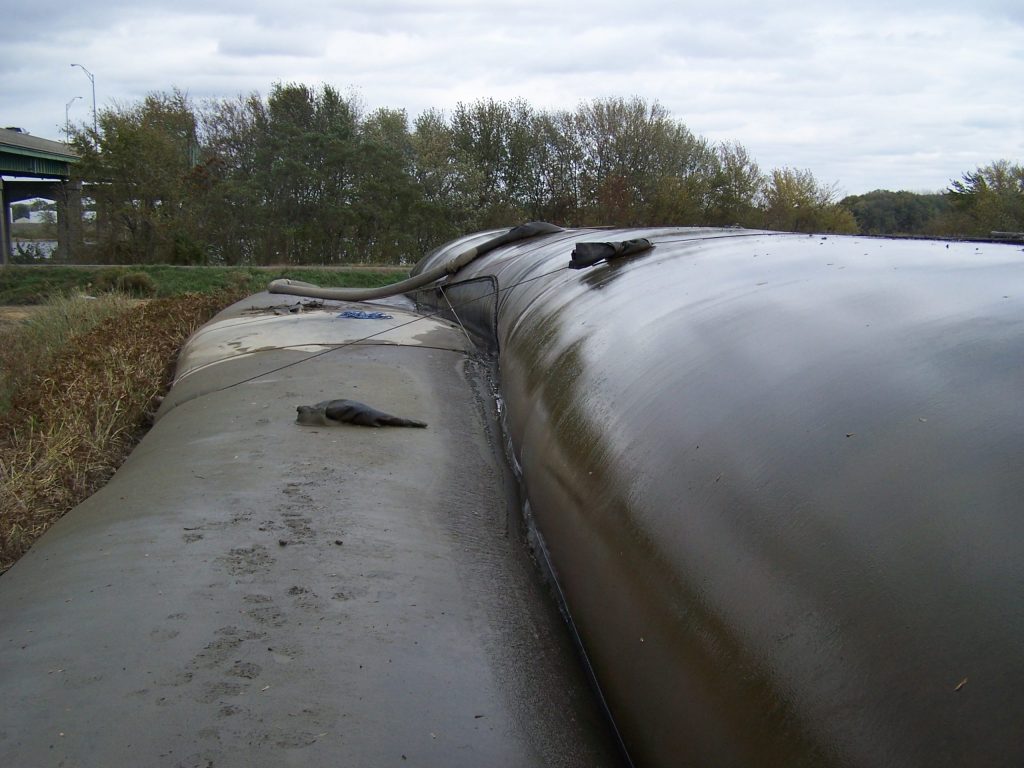 What Are EcoTubes?
EcoTubes are large dewatering bags that are constructed from high-strength, permeable geotextile fabrics. They are also known as geotextile tubes. Their geotextile material allows them to withstand the stress of being filled and put into place. Additionally, their unique filtration characteristics give them the ability to dewater and reduce the volume of any fine-grain sand, sludge, contaminated soil, or dredge waste.
Sediment-rich water is pumped into the fill port of the EcoTube and filtered through its geotextile fabric. This filtered water is collected, polished, then discharged into the proper location including nearby waterways or storm drainage systems. Additionally, they can be placed on top of each other to create a smaller footprint, allowing the project site more space to work.
EcoTubes are typically manufactured by sewing geotextiles together to create a tube shape. Along the length of the tube, filling ports are spaced usually at 25' intervals. When space is extremely limited, another product should be used. This leads us to our next question:
What Are Geo Bags?
Geo bags (also known as sediment filter bags) are small disposable dewatering bags manufactured from heavyweight nonwoven geotextile filter fabric or specialty woven monofilament textiles. They are designed to dewater and dredge sediments from any water pumping activity. Thanks to their high-strength seams, geo bags can withstand the stresses of pumping, similar to EcoTubes. They effectively capture dredged sludge while minimizing the amount of water loss.
Water seamlessly flows through the geotextile pores of the bags while filtering out solids. They can contain substances that are even smaller than the aperture openings in the fabric. In other words, sediment filter bags allow for a two-stage filtering process thanks to their material.
The Benefits of Using EcoTubes and Geo Bags for Dredging
Using both of these dewatering and dredging products offers a host of advantages. As previously mentioned, EcoTubes are an alternative to more costly sludge lagoons, wet hauling, sand drying beds, and wedge wire systems. Employing EcoTubes instead will save you money and even help save the environment.
The decanted water can often be reused or discharged into local water tables, streams, or runoff systems. This means minimal environmental impact. Additionally, EcoTubes do not require heavy equipment, allowing you to optimize the land around your project, especially when containment and dewatering space is limited.
Similarly, geo bags come in handy when space and time are limited. You will be able to rapidly deploy geo bags for dredging without taking up a lot of space. When the bags are full, easily transport them from your job site to the proper landfill facility. Simple enough, right?
When Are EcoTubes and Geo Bags Used?
Above all, EcoTubes and geo bags are ideal for dewatering and sludge removal projects. From municipal water treatment and construction dewatering to marine dredging and shale fracking wastewater, these powerful products can do it all. They allow you to get the job done all the while saving you money and aiding the environment. Additional uses include:
Fine-grained, inorganic sludge

Agricultural animal waste and remediation

Shoreline Protection
Where Can You Purchase EcoTubes and Geo Bags?
If you're looking for products to protect our environment and your wallet, look no further than IWT Cargo-Guard. We offer a wide range of dewatering and water diversion products to help with your dredging projects.
Looking for something else? Perhaps gabion baskets or reno mattresses? We got you covered. Whatever project you're working on, our team has the right products for you. Reach out to us today to start getting your job done efficiently.