The Many Advantages of Geosynthetics For Environmental Projects
Perhaps no other products are as advantageous to environmental and civil engineering projects as geosynthetics. For more than three decades, geosynthetics have evolved from limited engineering materials to state-of-the-art technical tools. Civil and environmental engineers use the many advantages of geosynthetics in order to successfully design projects, develop applications, and protect the community far more effectively than ever before. With that in mind, let's examine the ever-evolving advantages of geosynthetics.
What Are Geosynthetics?
Before getting into the advantages, it's important to understand what geosynthetics are. Geosynthetics are products used to stabilize terrain. They are typically polymeric, making them durable enough to use in the ground. For this reason, they are used primarily in civil engineering projects.
There are many different types of geosynthetics, but the most common are geotextiles, geogrids, geomembrane liners, and geocomposites. Let's investigate each type of geosynthetic and determine their specific advantages.
Geotextiles
Geotextiles are produced from chemically-resistant synthetic fibers. This prevents biodegradation from occurring. They are flexible, porous fabrics used in a wide variety of applications including stabilizing weak subgrades and filtering out water and sediments within embankments or even bioswales. When it comes to the advantages of geosynthetics, geotextiles' mechanical and hydraulic properties make them a surefire winner.
Geogrids
Geogrids are grid structures of polymeric material. This allows them to interlock with surrounding soil, rock, and earth. They are primarily used in reinforcement applications. Geogrids can also be designed to resist creep when faced with high loads for long periods of time. Their cost-effect apertures and highly resistant surfaces are only two of the many advantages of geosynthetics.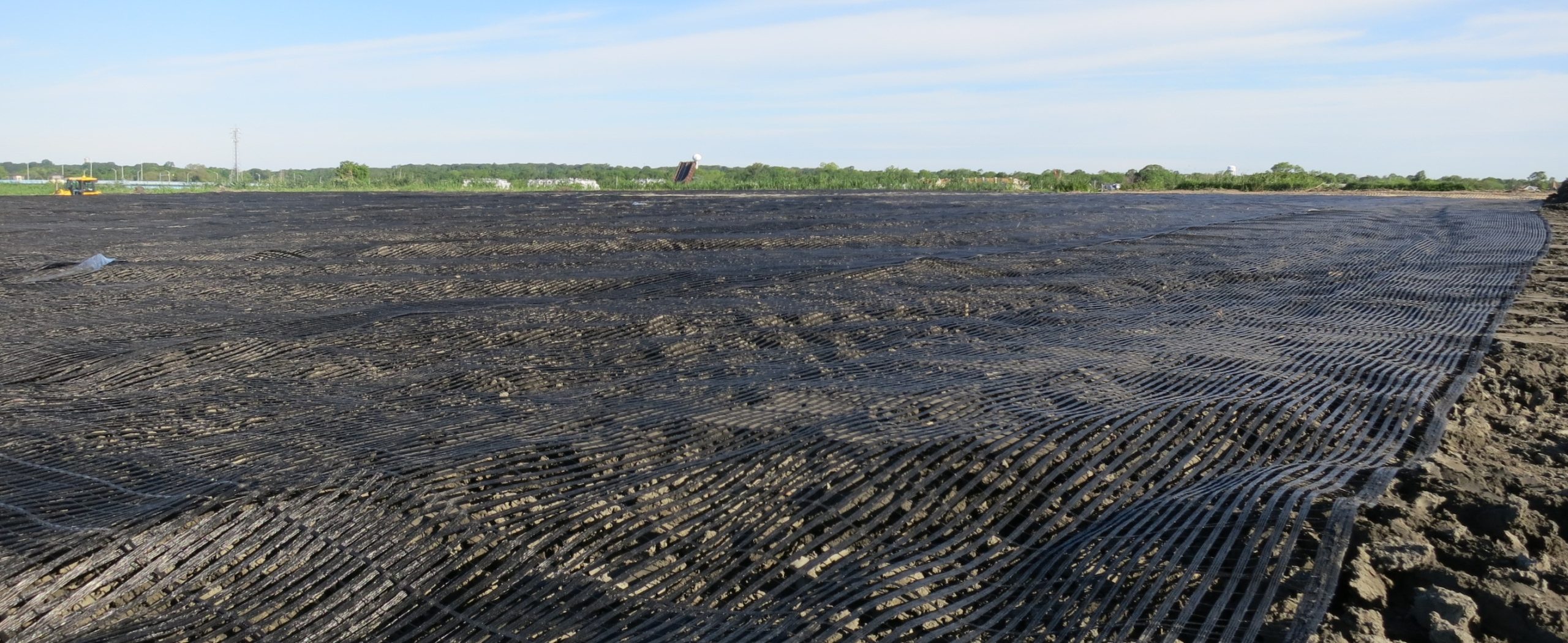 Geomembrane Liners
Geomembrane liners are impermeable membranes. This makes them ideal for primary and secondary containment applications. They offer superior protection for solid waste and water containment, in addition to oil and gas containment applications. Using geomembrane liners is a reliable and cost-effective way to get the job done, especially when completing environmental remediation projects. They keep rainwater from passing through the soil and spreading the contamination.
Geocomposites
Geocomposites are formed by bonding two or more geosynthetics together. This allows specific properties such as protection, drainage, or filtration to be added. When investigating the advantages of these geosynthetics, filtration and lower costs are at the forefront. Using geocomposites rather than granular drainage systems will allow you to save money on material, transportation, and installation.
The Advantages of Geosynthetics
Clearly, no matter which type of geosynthetic you're working with, you will reap countless benefits. Generally, geosynthetics are easy to use and cost-effective. Their versatile properties make them the ideal solution to a multitude of on-site problems. Whether you need filtration, reinforcement, separation, or stabilization, geosynthetics are the most advantageous products to use. Additional advantages of geosynthetics include:
Geosynthetic materials conserve energy and resources

Geosynthetics are designed to perform consistently over time

Geosynthetics improve soil properties

Geosynthetics are less expensive to purchase, transport, and install

Geosynthetics achieve superior performance rates
Are You Ready to Take Advantage of Geosynthetics?
Now that you know all of their advantages, are you ready to take advantage of geosynthetics? If you're ready to save time and money on your next engineering and environmental projects, choose IWT Cargo-Guard. We have the products you need to effectively protect both the planet and your budget.
Whether you're looking to apply geosynthetics to your soil stabilization project or trying to reinforce turbidity barriers on your worksite, IWT Cargo-Guard is here to serve you. With more than 30 years of experience under our belts, our team is committed to providing excellence in our products and service. As a client and customer, you can confidently rely on our support throughout the duration of your project and beyond.
Contact us today to get started reaping the advantages of geosynthetics.